THE BACKSTORY
I started playing the Pokémon TCG about a month ago because I was bored with Pokémon GO and had heard about the regional coming to Orlando, where I live. I'm no stranger to TCGs so I spent a couple of days on YouTube and PTCGO trying to get a sense of what the metagame looked like over the last two years, what cards people used, what cards were available to me, and what people thought was going to be good in the new standard format.

I almost immediately settled on Darkrai/Giratina. Something about hitting Mega damage output without having to run clunky Spirit Link cards while having an inherently supported anti-meta card just appealed to me.
I hopped on TCGPlayer and bought my first draft of the deck and two weeks ago I took it to a League which, at the time, I thought were like YGO locals – you know, actual tournaments – and I was super disappointed when I wound up playing friendly games against a few casual players.
I wanted to be better prepared for the tournament but I only learned the time policies and that matches were best of 3 the night before it began. This isn't to make an excuse for my failing to make the top cut – and I'm not proud of my record – but I stand by the decisions I made and I only want to give the reader some context for some of my unconventional card choices.
THE TL;DR
I played in the Masters Division alongside 615 other players at the regional in Orlando. I ran Darkrai/Giratina, ending up in 36th place with a 6-1-2 record. All my non-wins were due to time. I'm not happy about it and you probably shouldn't care. But if you do, here's the decklist: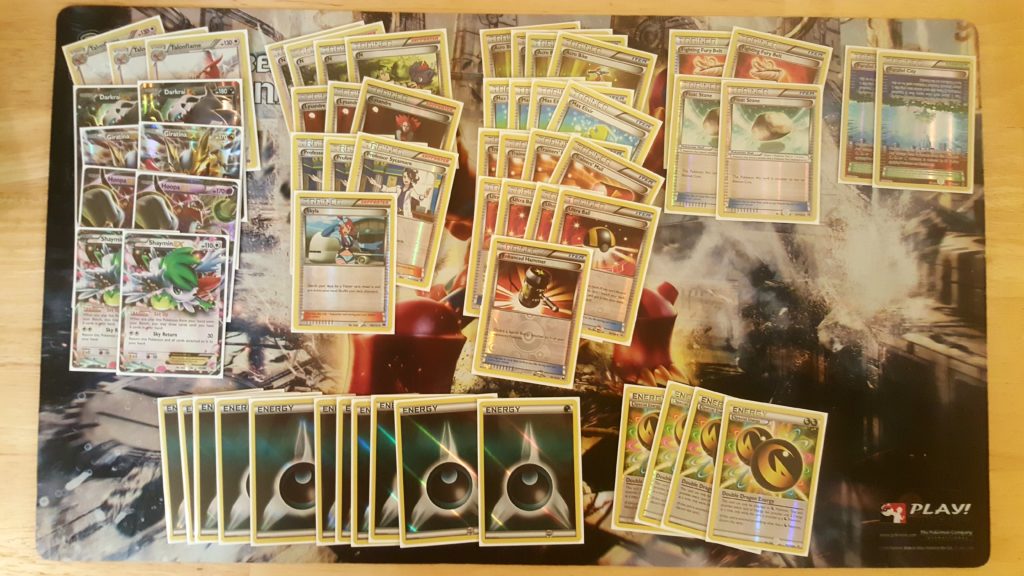 THE REPORT
TIE – 1-1 – Round 1 vs. Chad Truong (4-3-2) playing Mega Mewtwo EX
I didn't think to take many notes about this game so I don't remember most of it except for three things: 1. This guy was from Texas; 2. He seemed like a genuinely cool guy; and 3. He made a math mistake and used Lysandre to KO a Giratina without any Energy, which caused him to lose game 1. Time was called during game 2, which he won. We tied.
It was at this point – after my first match in a real Pokémon tournament – that I realized how long these games really last. I was so worried about going to time again that I spent the rest of the tournament playing as fast as possible (and not spending too much time deciphering exactly what my prize cards are, for example) each game. In the end, I was right to worry.
WIN – 2-0 – Round 2 vs. Rosalee Bruno (3-5-1) playing Vespiquen/Yanmega
She was a sweet, nervous girl who simply made too many mistakes and was never given the opportunity to recover.
LOSS – 0-1 – Round 3 vs. Joshua Zafrani* (2-5-2) playing Mega Gardevoir EX
His build included Xerneas (Geomancy) and Xerneas Break. Next to something using Carbink or Regice, this is probably my worst matchup. He easily won game 1 as I whiffed on all my Elixirs, but eventually time was again called on my turn, so while I would've won game 2 if I was given the last turn (and gotten one more point for the day), it was sadly not to be.
WIN –2-0 – Round 4 vs. Alexis Diaz (1-4-1) playing Mega Ray EX
There isn't much to say about Mega Ray. It's way too overhyped IMO. After Parallel City and Giratina locked him out T1, he scooped. Parallel City also had a big impact on G2, but in the end it was Darkrai clearing away Mega Rays that left him with no other big hitter. To be honest I don't think he took a single prize card either game.
WIN – 2-1 – Round 5 vs. Juan Martinez (4-4-1) playing Greninja
Up until this point, I literally started every single game I played with Shaymin. This game though, I finally started with Talonflame, which I guess made my opponent think I was playing Greninja. He passed after leaving a Froakie alone in the active and 1 Darkrai + 1 Max Elixir ended G1 really quickly.
Unfortunately, both Darkrais were prized and I opened Shaymin again G2. I couldn't build up a Giratina in time before he started going off.
For G3, he opened Talonflame to my Darkrai. He attacked after putting Froakie on the bench. I used Lysandre to KO it. Rinse and repeat for three turns until he wasn't left with anything to combo off with, when I finally KO'd the Talonflame for the win.
WIN – 2-1 – Round 6 vs. Nicholas Mink (3-3-1) playing Primal Kyogre EX
Never saw this deck in action before this round. He ran Regice, by the way.
Anyway, he saw Talonflame as my starter G1 and setup accordingly. I got a T1 Giratina going and he just couldn't recover from that.
G2 he played a lot smarter and only played Regice. I couldn't touch it. I opened Shaymin again, couldn't find a Float stone, and he built up Regice before I could do anything about it.
G3 he went back to playing not so smart, and Ultra Ball'd for Hoopa and Hoopa'd for Manaphy, Primal, and Shaymin T1. We just kept passing back and forth once I put a dead card in his active until I could eventually Lysandre and OHKO the Primal to stop him cold. He tried to set up a Regice after that but he N'd me into another Lysandre to kill it, at which point he scooped.
TIE – 1-1 – Round 7 vs. Jason Annichiarico* (5-2-2) Yveltal EX
This is the first time in 200+ games where my deck completely failed to set up turn 1. It's also weird that this happened all three games. All three games I opened with Shaymin with the other one prized, which was such a killer. I lost game 1 because his deck didn't open dead, which was enough to win.
I won game 2 after a lengthy back and forth. In the end I had a complete board, with enough energies on 2 Darkrai and Giratina. I had two prizes left to his 6. His only out was to stall with Fight Night in the active to negate my Float Stone because I didn't have any energies left to retreat. Shockingly, 5 turns later, at the bottom of my deck was the Lysandre needed to bring up his Shaymin, finally allow me to retreat, and knock it out for the win.
Game 3 started and we were hurrying. Again, Shaymin in the active and the other one was prized. No problem, deck setup turn 1 with enough to start OHKOing everything. His deck whiffed. At this point my setup is unbreakable.
I'm about to attack and claim 2 more prizes. But time is called on my turn, turn 0. He goes for turn 1, passes to me for his turn 2, and I have no way to claim 3 prizes in one turn. So yeah, the game is nullified and we tie.
It was at this point that I realized this end of match procedure sucks.
WIN – 2-0 – Round 8 vs. Daniel Sheikh* (4-3-2) playing Mega Ray EX (Fire)
Didn't realize how good two Hydrogen is in his deck, and the double attack from that basic whatever Pokémon is cool. But I still think it takes too much to set up and it's way too vulnerable, considering Mega Ray is pretty vulnerable as it is.
Anyway,  I won G1 pretty easily thanks to Giratina and Parallel City. G2 came down to the wire though. He was hoping to deck me out but I used an N after collecting a few prize cards to dodge that bullet. Overall he eventually tried to make a last-minute push but he couldn't get the pieces together in time, and was just too far behind in prizes at that point.
WIN – 2-0 – Round 9 vs. Andrew Smith* (5-2-2) playing Yveltal EX
G1 he went first, his only supporter was Hex Maniac, which he used to slow me down with a VS Seeker T2. I couldn't Hoopa, Shaymin, etc. until T3 when I went off. He drew Ultra Ball or something, I don't know, and started to set up eventually, but it was too late.
G2 I opened with just Tina to his Yveltal. He used Shaymin, attached 2 FFB to the active and Shaymin, attached DCE to Shaymin, and passed after filling up the rest of his back row. I only had a Double Dragon Energy for Tina and passed. He set up some more and passed. I drew Hoopa, set up my board, used a second DDE and Float Stone on my Tina as I set up my Darkrai with Elixirs.
Fast forward: we get to a point where he has Ninja Boy'd away that t1 Shaymin (which had a lot of energy) for a Yveltal EX. He had another fully powered one too, and all I had was Darkrai and Tina.
I honestly don't remember how I got out of that one exactly, but basically Yveltal EX couldn't OHKO either of my guys, I had an Enhanced Hammer to slow down one of the Yveltal EXs, and I Lysandred the one with FFB and OHKO'D it with Darkrai before it was a problem. I also started setting up a second Darkrai, which I eventually used to knock out one of his Shaymins that I Lysandred up. In the end he kept using N when I only had two prizes left, I had like 6 cards left, and I kept not drawing the remaining Lysandre until the last moment, when it really mattered.
There was a little issue during the match when he went to N after using Ninja Boy and quickly put his hand on top of his deck before I could correct him, and HE called a judge over to remedy the situation. He wasn't sure if he had 4 or 5 cards in hand before he used N, but I appreciated his willingness to accept the consequences, so I told him it was fine, and I didn't want to win like that. He picked up the top four cards of his deck and we kept playing.
*Shout out to you guys. I thought you all played very well.
Wound up in 36th place, narrowly missing the Top Cut. Wished my tiebreakers were better, but it's all good. The truth is I like spending my Saturdays in the company of complete strangers. Winning packs of Pokémon cards is fun for me.
I have a lot to say about the game and what I feel are its strengths and weaknesses, but I'm sure others have said it all before and perhaps there's a better place to have that conversation than here. However, it must be said that I had a good time generally speaking, the event was well-run, and the community seemed positive and welcoming. I was even recognized by a number of complete strangers at least 10 years younger than me, which was both weird and cool.
Next time I'll make more considerations for time (fewer cards like Trainers' Mail). In the meantime I would really, really like to talk to someone about the north/south rule for deck positioning. That's a stupid rule that's not very player-friendly IMO.
Otherwise, 8/10 would do again.
THE DECKLIST
So I posted this above but here it is in text form:
Pokémon – 11

3 Talonflame STS 96
2 Darkrai-EX BKP 74
2 Giratina-EX AOR 57
2 Hoopa-EX AOR 36
2 Shaymin-EX ROS 77

Supporters – 11

4 N
3 Lysandre
3 Professor Sycamore
1 Skyla

Items – 13

4 Trainers' Mail
4 Acro Bike
4 Max Elixir
4 Ultra Ball
1 Enhanced Hammer

Tools – 4

2 Fighting Fury Belt
2 Float Stone

Stadiums – 2

2 Parallel City

Energy – 15

4 Double Dragon Energy
11 Darkness Energy
Let's go through this one by one.
3 Talonflame STS 96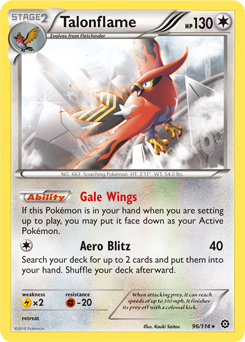 I actually ran 4 of these all the way up until the morning of the event, where I switched one out for 1 Enhanced Hammer. In hindsight, I wish I saw these as often as I do on PTCGO but I never really minded them when they came up.
1. You can support at least 1 non-EX Pokémon to do damage and absorb an attack. It doesn't change that your opponent still has to knock out 3 EX Pokémon to win. A lot of people use Yveltal for this, but I don't personally think it does enough for the deck.
2. Without something else (most people use Trubbish), you'd have a 50% chance of opening Hoopa or Shaymin in this deck. Trubbish is slow though, shuts off your Tina vs. half the field, and is easily countered by Lysandre/Ranger.
3. Anything other than a Pokémon without free retreat necessitates the first turn use of Float Stone. This is why most Darkrai/Giratina decks run at least 3 Float Stone, when the reality is it isn't otherwise necessary.
4. Free retreat also allows for a focus on T1 "max" Elixir plays because you can easily get in the first 100+ damage shot without worrying about a Float Stone for a combo piece.
5. When paired with 4 Acro Bike, 4 Ultra Ball, and 3+ Sycamore, extra Talonflames are typically just discard fodder, while starting Talonflames either force your opponent to use N when you're still at 6 prize cards or let you setup after, for example, searching 2 Max Elixirs to get your combo going. And I'd rather my opponent use N instead of Sycamore T1, to both refill my hand and for them to only draw 6 instead of 7.
2 Darkrai-EX BKP 74
Main damage output, but you already knew that. Thought about going to 3 but it just requires too many basic energies to support it.
2 Giratina-EX AOR 57
Secondary attacker. It's why all Mega decks try to squeeze in Garb (even though double Hex does it better). Has to be paired with FFB to be effective, but honestly, there are just too many matches where it's too risky to bring him out, so a third Darkrai is looking more and more like an attractive option.
2 Hoopa-EX AOR 36
I don't know why people bother with 1. Setting up turn 1 is so critical that you just can't afford to have one of these prized.
2 Shaymin-EX ROS 77
For the same reason I wouldn't run 1 Hoopa, I wouldn't run 1 Shaymin. You can't afford to have your single copy prized.
4 N
I ran 4 N as a way of countering the high amount of mulligans I always used to take before adding in the Talonflames. I also came to appreciate it 1. to stop me from decking out late game; 2. messing with Greninja players; and 3. rebuild my resources without having to discard any T1.
3 Lysandre
Without VS Seeker, 2 Lysandre is just not enough. If one is prized and you have to discard one off a T1 Sycamore, not having access to another one all game is just about the worst thing in the world when you're just two prizes away from game and staring at a Shaymin on the bench.
3 Professor Sycamore
I was using 4 of these for a while but I'd always find myself holding 2 of them late-game with less than 10 cards left in my deck. I also opened with them a lot, and I hate using this T1 when I open with a lot of energies.
1 Skyla
This seemed a lot better when I tested the deck online. Being able to fetch an Ultra Ball for Hoopa or Max Elixir T1 always seemed like the optimal thing to do to get things started, but it was sort of underwhelming at this regional. I'm not opposed to dropping my Supporter count by 1 altogether and replacing this with something else.
Items – 13
4 Trainers' Mail
4 Acro Bike
4 Max Elixir
4 Ultra Ball
I have nothing bad to say about this engine. I don't know why anyone would cut back on any of these. They were essential cards that let me setup very quickly every game.
1 Enhanced Hammer
This was a last-minute addition that I don't regret. I probably wouldn't run more than 1 though. There are still a lot of decks out there that don't make use of Special Energies, and Giratina can get setup early enough to stop those that do, that this is only really helpful to slow down and cap the damage output of Mega Mewtwo and Yveltal EX.
Tools – 4
2 Fighting Fury Belt
2 Float Stone
I don't know that I'd change the numbers of these at all. If I wanted to use VS Seekers and Olympia, or tech a Switch, I'd probably consider jumping up to 3 FFB/1 FS in lieu of 2/2, but otherwise this has always worked fine for me.
Stadiums – 2
2 Parallel City
If Mega Ray and Rainbow Road die down in popularity at all, I would probably like to drop one of these for a Reverse Valley. Until then, I actually think this helps the deck a lot by weakening Greninja/Volcanion attacks and clearing away my benched Shaymins/Hoopas.
Energy – 15
4 Double Dragon Energy
11 Darkness Energy
I think most people do 4/10 here. I don't know, I find I land my Elixirs a lot better and mind using Sycamore T1 a lot less when I run 11 basic energies. It backfired on me once when I opened with 4 energies, but it saved me at least three times during the tournament.
GENERAL NOTES
So, I didn't run VS Seeker, nor did I run any 1-of tech'd Supporters like Pokémon Ranger or Hex Maniac. I think a lot of people will disagree with that decision but since it was a purposeful decision, I would like to explain my reasoning and hopefully – if my inexperience shines through – someone can explain why I'm wrong.
I liked Darkrai/Giratina for this event because it wasn't as clunky or hard to put together as Volanion. It wasn't prone to getting locked out like Mega Ray and Mega Mewtwo. I did kind of like Xerneas Break with Giratina, but I did the math on it and it didn't seem like the deck would work out.

Anyway, the point is, I couldn't think of a weakness the deck had that had to be hard countered besides Carbink, Regice, etc. But these decks made up such small parts of the metagame that it hardly seemed worth making my matchups versus everything else worse just to have a better shot against them.
And even still, in testing I found that Hydrogen was better for these decks than any specific Supporter card, because I could at least tutor Hydrogen pretty easily and it had a bonus ability to lessen the retreat cost of Giratina. But like I said, even he was underwhelming vs. everything else. For just about any matchup, I'd rather have a second Giratina.
So save for the tech Supporters, I couldn't justify VS Seekers because it seemed like they were just redundant half the time considering I only use 3 really important Supporters – N, Lysandre, and Sycamore. Redundancy wouldn't inherently be a bad thing except that they're functionally useless in my opening hand. For this reason, since Battle Compressor is no longer in Standard, I couldn't justify running a single VS Seeker over a Supporter I actually wanted to use, and beyond that – the 4/3/3 I consider essential – frankly, I just don't want to draw anymore Supporters than that.
I might swap out the Skyla for one now, but that's it.
FINAL THOUGHTS
I've crossed 3000 words here so I'll make this short: I thought the deck ran really well, albeit I'd be hard-pressed to say it was meta-breaking. I think the Talonflames are a neat addition as far as squeezing in a non-EX goes, but maybe the deck would've run smoother if I put a pair of Hydrogens or something in there instead. I don't know, I doubt it though.
In the future, considering all my non-wins were due to time, I'm going to make a more active effort to pick up my pace during gameplay and not, as I learned after round 1, take so much time to study the contents of my deck after I Ultra Ball.
It's worth mentioning I also thought the event was exceptionally well-run. I thought the community was very friendly and engaging, and I was happy that a few folks recognized me from my YGO days. Sadly, I didn't know anyone there except for this one guy I saw on YouTube, so hopefully that changes in the coming months.
Also, thanks to Virbank City for answering a couple of my questions the night before the event. It was super helpful.